Have you ever had those mornings where you have absolutely no time to put on any makeup? Or, you prefer that extra 10-15 minutes of sleep.
source: http://blog.swagbucks.com/wp-content/uploads/2013/03/tumblr_mdjfiz4gcE1rqj5g7o1_500.jpg
I have very straight eyelashes that are also fine and sparsely spread across my lash line. This look honestly takes me less than 2 minutes to complete.
If you are looking for a very natural look just to enhance your natural beauty (because that's what make up should be for most of the time!), you might want to give this a try.
- a felt tip eyeliner

(I used stila all day liquid eyeliner in black)
- an eyelash curler

(I used my shu uemeura one)
- black mascara

(I used dior iconic overcurl, it was what I had, I would suggest something that is waterproof if you really want a curl to hold because they normally contain wax)
To start off any make up look, you always want clean hands (and face that is moisturized). If you need to feel free to prime your lids if they get super oily!
1. Using a q-tip or clean finger tips lightly lift the eyelid up so you can see your lashline and waterline. Apply your eyeliner in between the gaps at your lashline (not your waterline). This technique is called tight-lining. I do that to about 1/3 of the way in (from the outer corner of my eye). See the picture below to see what it looks like. (Doesn't it look so natural?)

2. Curl your eyelashes with your favourite eyelash curler. You want to try to find one that fits the shape of your eye.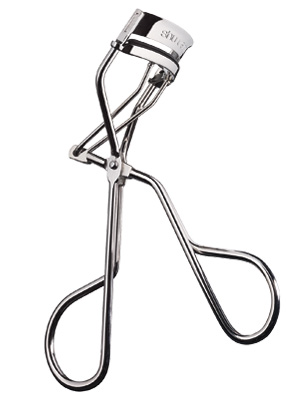 source: http://img2.timeinc.net/instyle/images/2010/bbb09/shu-uemura-eyelash-curler-300.jpg
3. Apply one coat of your favourite mascara. A waterproof formula tends to hold curls best. I go from the base of my lashes all the way up. Don't worry about getting it on your eyelids. If that happens, wait for it to dry and grab a q-tip. Rub gently with the q-tip to remove the dried mascara from your lids.
source: http://images.bloomingdales.com/is/image/BLM/products/8/optimized/1168958_fpx.tif?wid=1200&qlt=90,0&layer=comp&op_sharpen=0&resMode=sharp2&op_usm=0.7,1.0,0.5,0&fmt=jpeg

Tada! You're done and ready to head out the door :)
Please comment below if you have any other questions or requests :)
Thoughtfully yours,